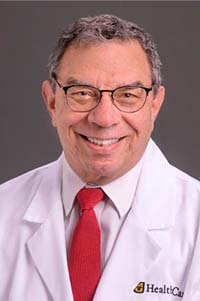 Executive Director, NextGen Precision Health
Executive Vice Chancellor for Health Affairs, MU Health Care
As the executive director of NextGen, Dr. Barohn works closely with faculty and leaders across the University of Missouri system to make precision health our top research priority.
Dr. Barohn, a neurologist, is an internationally known neuromuscular disorders clinician and researcher. His research specializes in rare neuromuscular disorders such as forms of muscular dystrophy and amyotrophic lateral sclerosis, also known as Lou Gehrig's disease. He continues to be engaged in finding targeted precision therapies for these devastating disorders. In 2018, he was elected to the Association of American Physicians.
Throughout his career he has attained funding of more than $80 million from federal organizations and other resources to advance clinical and translational science. He is an author in more than 400 peer-reviewed publications and he is an author in one of the standard neurology textbooks, DeJong's The Neurologic Examination.
A Missouri native, Dr. Barohn was born in St. Louis and is a graduate of the University of Missouri-Kansas City School of Medicine.