Global Health Challenges Meet Missouri Solutions
Our vision: Accelerate innovations in precision health that improve health outcomes for Missourians and the world
Our mission: Revolutionize health care for our citizens, eliminate health care disparities, and transform community health through cross-disciplinary collaborations of world-class academic researchers in partnership with government agencies and industry leaders
---
At the University of Missouri, we are taking on society's biggest health care challenges and expanding our collaborative research efforts to bring precision health to patients, no matter where they live. From major urban centers to underserved rural communities, NextGen Precision Health investigators are dedicated to delivering the next generation of personalized health care solutions.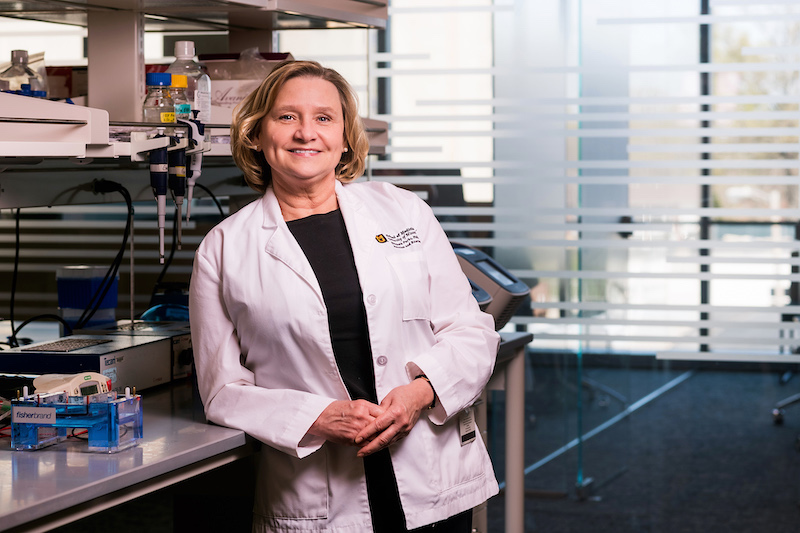 A Systemwide Foundation for Success
Our UM System network of highly skilled researchers, energetic students, well-established partnerships and critical infrastructure uniquely position us to generate important discoveries, safer treatments, faster diagnostics and transformational outcomes for patients in need. The breadth of our expertise spans across four universities — each with unique research strengths.
Rural Missourians carry a disproportionate burden of disease-related death and have more difficulty accessing the health care services they need.
Missouri Department of Health and Senior Services, 2018-19 Biennial Report
Missouri has the 12th highest rate of death due to cancer out of the 50 U.S. states.
Centers for Disease Control, National Center for Health Statistics, 2019
With new approaches, 34% of deaths from heart disease are preventable.
Centers for Disease Control, National Center for Health Statistics, 2008–10
Kidney disease is closely linked to vascular health and diabetes. Our state is ranked 4th for most kidney disease deaths in the country.
Centers for Disease Control, National Center for Health Statistics, 2019
1 in 56 deaths in Missouri was caused by opioid overdose.
Missouri Department of Health and Senior Services, 2018
Missouri adults experience frequent mental distress at higher rates than the national average.
CDC, Behavioral Risk Factor Surveillance System, 2019
Helping More People, Faster
The Roy Blunt NextGen Precision Health Building unites talented investigators from across the UM System with a cutting-edge research facility dedicated to solving our most pressing health concerns. Designed to empower interdisciplinary collaboration as the cornerstone of the initiative, the building provides the collaborative nexus for activity focused on speeding the path to new treatments and making them accessible to people in need, faster than traditional bench-to-bedside methods.

The NextGen building is the single largest research investment on campus, spanning four stories and 265,000 square feet. The goal is to bring crucial lab research into new life-changing interventions, medicines, technologies and treatments that are designed to improve an individual's health based on conditions arising from unique genes, environment and lifestyle.
The Future of Health, Built on the Strengths of Mizzou
As one of only six public universities in the country with schools or colleges of medicine, veterinary medicine, agriculture, engineering, arts and science, law and a powerful research reactor — all on one campus — Mizzou is uniquely positioned to meet the challenges of precision health. Our position is further strengthened by MU Health, our academic health system that is home to groundbreaking research with headquarters located right next to the NextGen building. Combining our collective expertise and world-class resources allows MU researchers to effectively analyze and develop solutions to our critical health challenges and deliver treatments with access for all, improving the lives of people living in urban, rural and remote communities.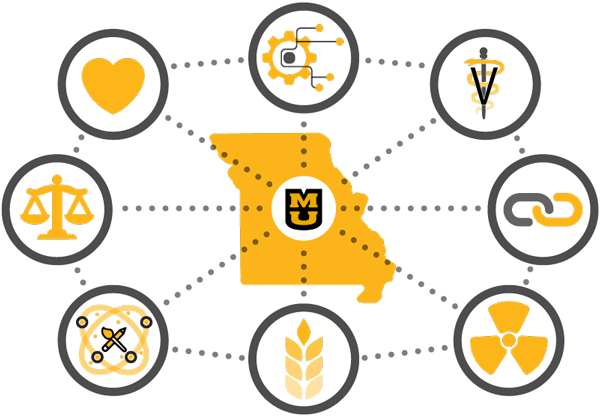 Aligning Mizzou's strengths behind NextGen Precision Health