World-Class Research Spaces
The NextGen Precision Health building is a state-of-the-art facility at the University of Missouri-Columbia that is available to all UM System researchers. It is located adjacent to the MU Health Care and Truman VA hospitals.
As part of the statewide initiative, this world-class facility brings expert health researchers and clinicians together under one roof in search of solutions to the world's greatest health challenges.
The building provides the facilities and resources needed to integrate multidisciplinary laboratory space with advanced analytical instrumentation, computational processing and pilot-scale manufacturing to create a comprehensive precision health research pipeline that encompasses the entire university system.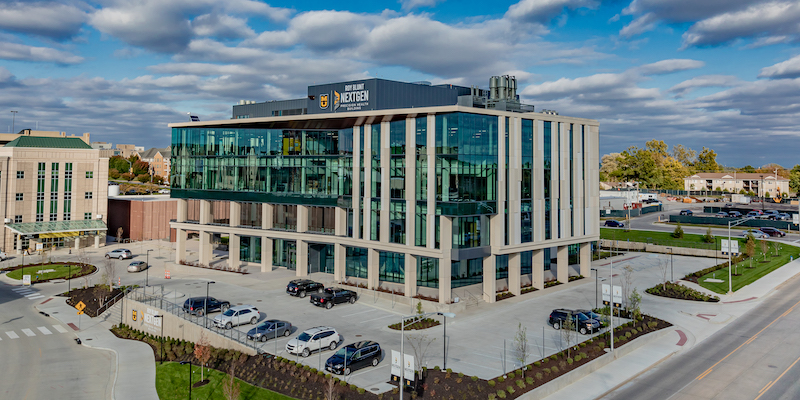 Building Features
Features of the 265,000-square-foot complex include:
State-of-the art collision/collaboration space designed with an open laboratory concept
Educational resources, including large and small conference rooms with advanced audio/visual capabilities
Multidisciplinary laboratory space
Clinical Translational Science Unit for physiological and cognitive testing of human study participants
MAGNETOM Terra 7 Tesla (7T) MRI scanner
In-building access to PET/CT, Cryo-EM and high-resolution electron microscopy
Integrated informatics and data analytics spaces
Good Manufacturing Practice (GMP) spaces for pilot-scale manufacturing
Clean rooms for tissue engineering and device fabrication
Physical co-location with MU Health hospital system, facilitating clinical collaboration
The Research Tower contains a multitude of both dry and wet lab facilities, as well as meeting and conference areas where researchers, graduate students and others can come together to discuss collaborative projects.
The Innovation Tower is the public facing facility and include graduate student work spaces, seminar rooms and a large multipurpose space, a visualization center and investigator offices.
The Clinical Translational Science Unit (CTSU), located within the Innovation Tower, is a hub of activity for exercise and nutrition science, cognition studies, first-in-human clinical testing and more. State-of-the-art equipment is available to MU Health professionals and scientists as they work with patients in the collaborative space. A full staff of medical directors, nurses, physiologists and project coordinators help support the ongoing work, ensuring that NextGen activities encompass the "cells to society" spectrum of research.
The NextGen Center for Imaging is a state-of-the-art facility featuring the Siemens MAGNETOM Terra 7 Tesla MRI, which helps clinicians detect the source of certain health problems earlier and provide more precise treatment. Additionally, the Siemens Virtual Cockpit enables remote scanning assistance, allowing transformation of care delivery and a higher level of standardization that leads to more accurate diagnoses.
Location is Key
The institute's physical location adjacent to MU Health Care's hospitals and clinics and near the following MU campus research facilities enables collaborative collisions that accelerate transformative health care innovation.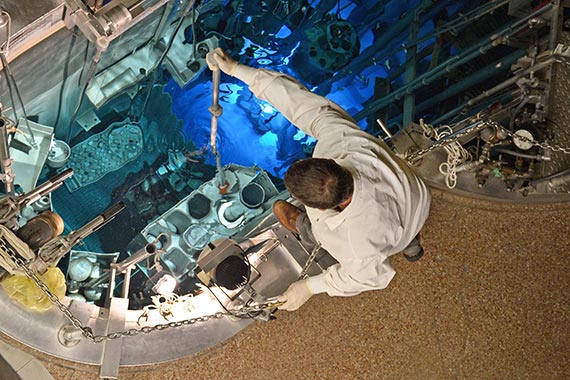 University of Missouri Research Reactor (MURR)
Research at MURR, the nation's most powerful university reactor, helped develop several FDA-approved pharmaceuticals and is the sole U.S. provider of several important radioisotopes used in radiopharmaceuticals.
More about the MU Research Reactor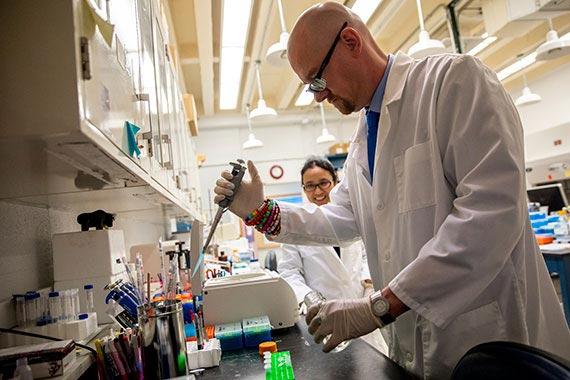 Dalton Cardiovascular Research Center
Dalton researchers are studying cardiovascular complications associated with aging, diabetes, obesity, cancer and hypertension — disorders that have major economic impact in Missouri and the U.S.
More about Dalton Cardiovascular Research Center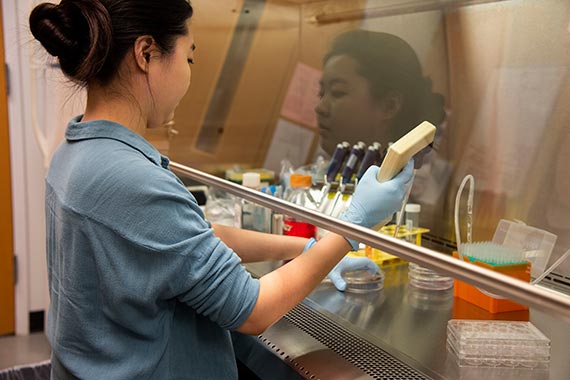 Bond Life Sciences Center
This national center will help develop biomedical treatments for human diseases such as cystic fibrosis. As the latest expansion of the NIH's Somatic Cell Gene Editing Consortium, the groundbreaking gene-editing tools developed at the Center will be available to researchers nationally and globally.
More about the Bond Life Sciences Center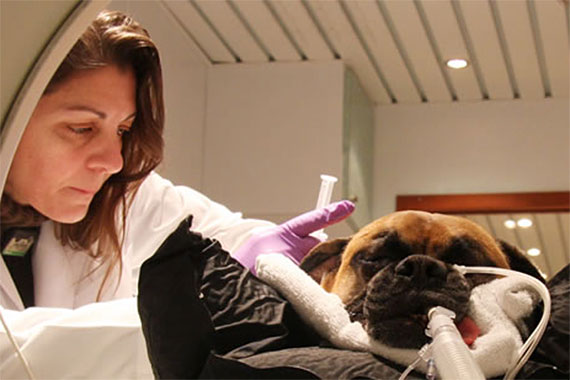 Nuclear Medicine and Positron Emission Tomography (PET) Imaging Center
MU is one of a limited number of facilities with the ability to perform nuclear medicine and PET studies for animals. Center staff commonly perform bone scans, thyroid scans, glucose PET scans and a variety of therapeutic radioactive injections for treatment of and pain relief from cancer.
More about the Nuclear Medicine and PET Imaging Center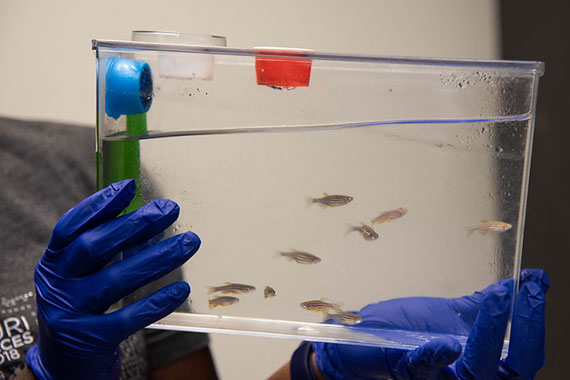 Animal Modeling Core
The Animal Modeling Core provides a variety of essential services associated with the generation and characterization of animal models. AMC personnel provide expert advice on the design and approach used for generating animal models. The AMC uses traditional approaches, such as embryonic stem cell modification, as well as cutting-edge tools such as the CRISPR/Cas9 system.
More about the Animal Modeling Core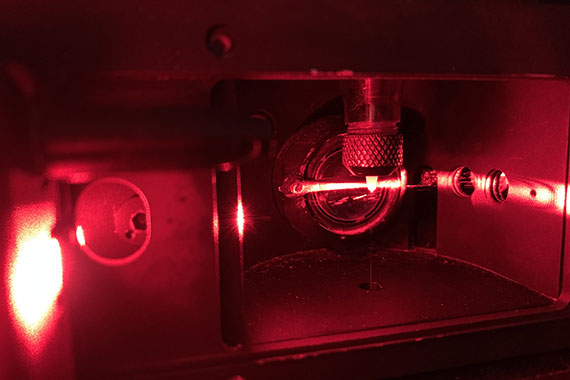 Cell and Immunobiology Core
The Cell and Immunobiology Core is focused on providing the best tools to achieve the best research. Services include a supply center, tissue culture lab, flow cytometry facility and Seahorse analyzer.
More about the Cell and Immunobiology Core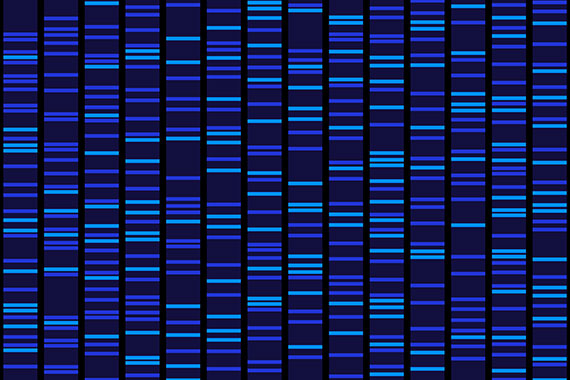 Genomics Technology Core Core
The Genomics Technology Core provides cost-effective, timely genomic services to UM system investigators, external academic researchers and commercial entities. Facility staff educate and train researchers and students in the use of sequencing technologies with a focus toward implementation of emerging technologies to enhance future research capabilities.
More about the Genomics Technology Core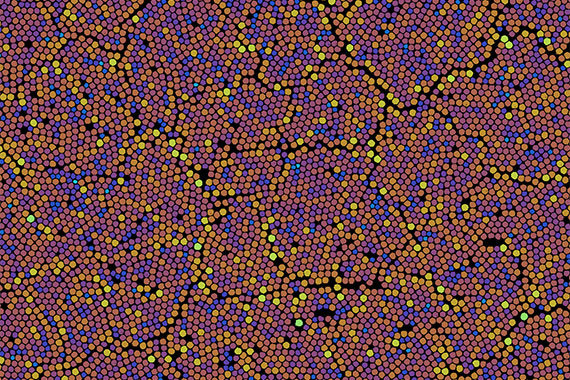 Electron Microscopy Core
The Electron Microscopy Core Facility provides access to well-maintained scanning and transmission electron microscopes as well as ancillary equipment to process, analyze and visualize a wide variety of materials and biological samples. Highly-skilled staff offer assistance and educational opportunities to those who wish to learn about electron microscopy.
More about the Electron Microscopy Core