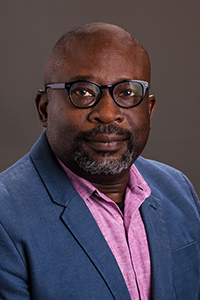 Professor of Medical Pharmacology & Physiology, School of Medicine
Russell D. and Mary B. Shelden Missouri Chair in Anesthesiology, School of Medicine
NextGen Focus Area: Vascular and Kidney Disorders
Ade Adebiyi's research broadly focuses on renal and vascular pathophysiology in neonates and adults. His team utilizes an integrative approach, including techniques drawn from molecular, biochemical, electrophysiology, imaging, isolated tissue, and whole animal methodologies to investigate the function and control of ion channels, regulatory proteins, oxyradicals, and G protein-coupled receptors in vascular and kidney tissues and cells. His lab is equipped to study vascular and kidney pathophysiology using small and large animal disease models, including hypertension, acute kidney injury, chronic kidney disease, diabetic kidney disease, and sickle cell nephropathy. His laboratory is one of the few groups that utilize translational swine models to investigate the basic science of kidney microcirculation and dysfunction within the first week of life. Dr. Adebiyi anticipates his laboratory research will accrue novel findings with therapeutic and diagnostic potential.
Precision Health Impact:
Elucidating the mechanisms that control systemic and renal microvascular reactivity and their contribution to vascular and kidney diseases.

Understanding the mechanisms of acute kidney injury that occur during the perinatal period.

Identification of novel therapeutic targets and disease biomarkers.
Publications:
Afolabi JM, Michael OS, Falayi OO, Kanthakumar P, Mankuzhy PD, Soni H, et al. Activation of renal vascular smooth muscle TRPV4 channels by 5-hydroxytryptamine impairs kidney function in neonatal pigs. Microvasc Res. 2023 Jul;148:104516.
Kumar R, Soni H, Afolabi JM, Kanthakumar P, Mankuzhy PD, Iwhiwhu SA, et al. Induction of reactive oxygen species by mechanical stretch drives endothelin production in neonatal pig renal epithelial cells. Redox Biol. 2022 Jul 4;55:102394.
Peixoto-Neves D, Kanthakumar P, Kumar R, Soni H, Adebiyi A. Loss of urotensin II receptor diminishes hyperglycemia and kidney injury in streptozotocin-treated mice. J Mol Endocrinol. 2022 Apr 1;68(3):167–78.
Afolabi JM, Kanthakumar P, Williams JD, Kumar R, Soni H, Adebiyi A. Post-injury Inhibition of Endothelin-1 Dependent Renal Vasoregulation Mitigates Rhabdomyolysis-Induced Acute Kidney Injury. Function (Oxf). 2023;4(4):zqad022.
Elsherif L, Kanthakumar P, Afolabi J, Stratton AF, Ogu U, Nelson M, et al. Urinary angiotensinogen is associated with albuminuria in adults with sickle cell anaemia. Br J Haematol. 2023 Aug;202(3):669–73.
Email: a.adebiyi@health.missouri.edu
Department website: https://medicine.missouri.edu/departments/medical-pharmacology-and-physiology