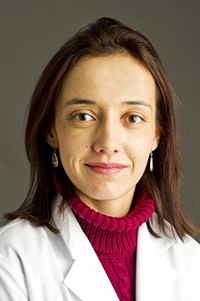 Thomas W. Burns, MD, Distinguished Professor in Diabetes, School of Medicine
Director of Faculty Research, Department of Medicine, School of Medicine
Professor of Medicine, School of Medicine
Chief of Endocrinology, Harry S. Truman Memorial Veterans' Hospital
NextGen Focus Area: Cardiovascular and Metabolic Disorders
Camila Manrique-Acevedo's primary research focus is on diabetes-related cardiovascular disease and potential treatments to improve vascular function, with an emphasis on insulin resistance and diabetic women. She is a clinician scientist with a federally funded program that explores mechanisms behind the diabetes-triggered disruptions to the cardiovascular system. Her research also tests potential treatments for better patient outcomes.
Precision Health Impact:
Understanding how metabolic disorders and high blood pressure affect health.
Investigating diabetes, hormonal disorders and hypertension.
Publications:
Email: manriquec@health.missouri.edu
Department website: https://www.muhealth.org/doctors/camila-manrique-md