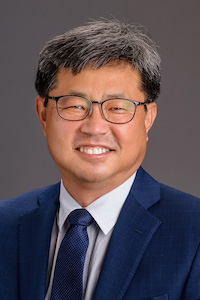 Dr. R. Philip and Diane Acuff Endowed Professor of Obstetrics, Gynecology and Women's Health, School of Medicine
Director, NextGen Precision Health Center for Reproductive Sciences
NextGen Focus Area: Reproductive Health
Jae-Wook Jeong's research is devoted to understanding the molecular mechanisms regulating normal physiology and disease development in the uterus. He focuses on reproductive sciences to develop advanced diagnostic and therapeutic tools for improved understanding of the pathophysiology of disorders including infertility, endometriosis and endometrial cancer.
Precision Health Impact:
Developing novel imaging methods and biomarkers for endometriosis and endometrial cancer.
Multidisciplinary investigation of the genome, epigenome and/or transcriptome as they affect the development, progression and treatment response in gynecologic conditions.
Developing innovative in vitro, in vivo and ex vivo model systems to study healthy endometrium and gynecologic conditions.
Publications:
Email: jeongjw@missouri.edu
Department website: https://medicine.missouri.edu/faculty/jae-wook-jeong-phd