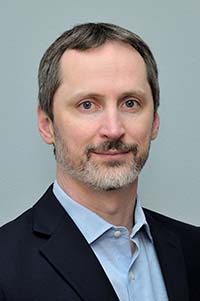 Scientific Engagement Director and Senior Key Expert in Magnetic Resonance Ultrahigh-Field Imaging, Siemens Healthineers
Adjunct Research Professor of Radiology, School of Medicine
NextGen Focus Area: Imaging (Ultrahigh-Field Magnetic Resonance)
John Grinstead is a Siemens Healthineers magnetic resonance physicist based at the NextGen Precision Health building. His primary area of research is the development of 7 Tesla magnetic resonance applications.
Precision Health Impact:
Managing research initiatives related to the Alliance for Precision Health on behalf of Siemens Healthineers.

Investigating the role of Siemens 7 Tesla magnetic resonance in clinical applications and disease research.

Developing advanced magnetic resonance techniques.