The NextGen Precision Health Discovery Series provides learning opportunities for UM System faculty and staff across disciplines, the statewide community and our other partners to learn about the scope of precision health research and identify potential collaborative opportunities. The series consists of monthly lectures geared toward a broad multidisciplinary audience so all can participate and appreciate the spectrum of precision health efforts. 
Information about the upcoming talk, including continuing education, is available below.
For questions about this event or any others in the Discovery Series, please reach out to Mary Hindle at hindlem@health.missouri.edu
The Genomics Core at MU and NextGen Precision Health
It is an understatement to say that "next-generation" sequencing (NGS) technology has revolutionized biomedical science and the trajectory of healthcare. Over the last ten years, sequencing has created a paradigm shift in biological examination of disease as the sequencing instrument has become the modern era digital microscope of investigation. This new digital microscope produces a high volume and speed of data acquisition and the need for sophisticated subsequent analysis not seen since the similar revolution of 3- and 4-D imaging some 30 years ago. At the same time, the costs of sequencing are decreasing dramatically. As a central campus/system resource, the MU DNA Core facility promises to substantially increase the development of system-wide research networks and thus will impact all levels of multi-disciplinary basic, biomedical and clinical research envisioned by UM System leaders. A summary of the MU Tier 1 sequencing initiative and more generally the power of sequencing to address all types of biological questions with varied starting points including the use of single cell technology were discussed.
About the Speaker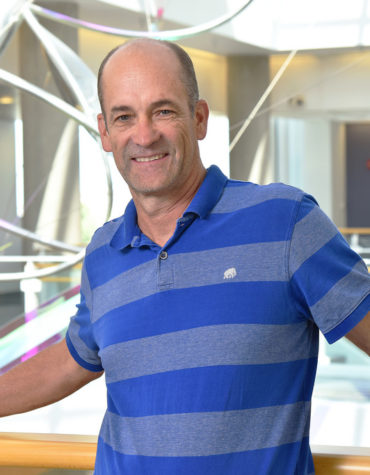 Dr. Warren received his B.S. degree in animal sciences from the Oklahoma State University in 1984, M.S. degree from Clemson University in reproductive physiology in 1987 and Ph.D. from the University of Missouri in molecular endocrinology in 1990. A post-doctoral fellowship was completed at G.D. Searle Pharmaceutical before joining Monsanto Company in 1991, where from 1992 to 1999 he held several leadership roles including group manager of genome initiatives. Prior to joining Washington University School of Medicine, he was Senior Director of Operations at Incyte Genomics. Dr. Warren joined the McDonnell Genome Institute in 2001 where he held various appointments as Assistant Director, Associate Professor of Genetics, a secondary appointment in Molecular Microbiology, both in the Washington University School of Medicine and affiliate scientist position at the St Louis Zoo. Dr. Warren is currently a Professor of Genomics, at the Bond Life Sciences Center and he is an internationally recognized expert in comparative genomics.  He has received the honor of being published multiple times on the cover of Nature publications featuring the chicken, platypus, orangutan, elephant shark, and Y chromosomes and most recently the great apes on the cover of Science.  The application of evolutionary medicine practices toward the identification of molecular mechanisms of action for a variety of traits unique to multiple phylums remains a key research focus for Dr. Warren.  Dr. Warren's research group uses various whole genome comparative and more recently single cell transcriptomic methods to examine changes in gene evolution and regulation, as a means to better understand human biology with a recent focus on comparative oncology. The identification of these species-specific gene aberrations in evolutionary time promises to engender new thoughts on the molecular workings of observed phenotypes such as cancer. Dr. Warren also leads campus-wide initiatives to adopt high-throughput sequencing technology. He is the author of four book chapters, and more than 180 peer-reviewed articles.
Continuing Professional Education Credit
Nurses
Up to 1.0 contact hour will be awarded to all participants who view the live sessions in their entirety and complete the evaluation form.
University of Missouri Sinclair School of Nursing is approved as a provider of nursing continuing professional development by the Midwest Multistate Division, an accredited approver by the American Nurses Credentialing Center's Commission on Accreditation.
Midwest Multistate Division Provider Number MO1022-6
Physicians
The Office of Continuing Education, School of Medicine, University of Missouri is accredited by the Accreditation Council for Continuing Medical Education (ACCME) to provide continuing medical education for physicians. 
The Office of Continuing Education, School of Medicine, University of Missouri designates this live educational activity for a maximum of 1 AMA PRA Category 1 Credit(s)™.  Physicians should only claim the credit commensurate with the extent of their participation in the activity.
CONFLICT OF INTEREST: All persons with influence over the content of this program have been asked to disclose relevant financial interests in the last 12 months that might have an impact. John Spertus, MD, is a consultant for Jannsen, Bayer, Myokardia, Merck and Novartis, and receives research support from Abbott Vascular. No other speaker or planning committee member has a relevant financial interest.