NextGen Precision Health & Ellis Fischel Cancer Center Science Seminar - Jan. 19, 2022
For questions about this event, please reach out to Veronica Lemme.
"Effects of Biological Sex on Cancer Metabolism: Developing a New Paradigm for Precision Oncology"
Speaker: Joe Ippolito, MD, PhD, Assistant Professor of Radiology; Assistant Professor of Biochemistry and Molecular Biophysics
Date: Jan. 19, 2022, 4:30-5:30 p.m.
Description
There is a sex disparity in multiple cancers throughout the human body where males have higher incidence and mortality compared to females. Data are emerging that implicate the effects of biological sex as an important driver of this disparity. While some of the sex differences that explain this disparity come from the actions of sex hormones, Dr. Ippolito's lab is discovering cell-intrinsic sex differences in cellular metabolism where male cancer cells have higher consumption of sugars and amino acids compared to females. We demonstrate that this phenomenon can be used to predict sex-specific response as well as resistance to conventional cancer therapies. Together, these findings highlight a new paradigm in precision oncology that focus on sex and metabolism to improve outcomes.
Speaker Bio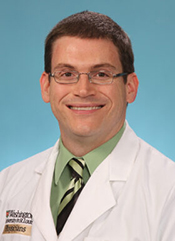 Dr. Ippolito's focus is cancer metabolism. Specifically, he is interested in integrating techniques in genomics and metabolomics to identify metabolic determinants of poor prognosis in neuroendocrine carcinomas. Dr. Ippolito uses this information to develop metabolism-directed imaging protocols with functional MRI and PET. Information obtained in concert with these strategies will be used to develop new strategies in pharmaceutical development.