NextGen Precision Health & Ellis Fischel Cancer Center Science Seminar – Feb. 16, 2023
The goal of the NextGen Precision Health & Ellis Fischel Cancer Center Science Seminar is to highlight transdisciplinary precision research taking place in the cancer field, provide opportunities for collaboration among researchers to build their own research efforts and promote clinical/researcher activity across the University of Missouri System and our partners.
For questions about this event, please reach out to Veronica Lemme.
"Immunotherapy: The Future is Now – Personalized Medicine to Improve Cancer Treatments for Humans and Companion Animals"
and
"Activated T Cell Therapy Improves Outcomes for Companion Dogs with Cancer and Accelerates Human Translation"
Speakers: Tammie Wahaus, Chief Executive Officer and Board Member, ELIAS Animal Health, LLC
and
Jeffrey Bryan, DVM, MS, PhD, DACVIM (Oncology), Professor of Oncology, Associate Director of Comparative Oncology, Ellis Fischel Cancer Center, College of Veterinary Medicine, University of Missouri
Date: Feb. 16, 2023, 4:30-5:30 p.m.
Immunotherapy Description
Building on 50-plus years of scientific research, immunotherapies are squarely in the spotlight as new cancer treatments are advancing through the development, clinical evaluation and regulatory approval process. This discussion focused on the personalized adoptive cell therapy being developed by ELIAS Animal Health, the translational impact that it is expected to achieve and what it takes to advance a new technology from idea to regulatory approval (from bench to bedside).
Activated T Cell Therapy Description
Autologous tumor cell vaccine administration has been shown to cause tumor mutation-specific lymphocyte-mediated immune responses in a variety of cancers. However, these responses rarely result in objective or durable tumor responses. The addition of activated T cell therapy to tumor-specific vaccination has resulted in complete remission in rodent models. This combination immunotherapy approach was employed to treat dogs with osteosarcoma immediately following amputation. Of 14 dogs treated in the pilot trial, five were long-term survivors. No dog received chemotherapy at any point.
Wahaus Bio
Tammie Wahaus is Chief Executive Officer of ELIAS Animal Health, a medical biotechnology company focused on advancing novel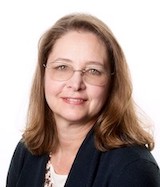 immunotherapies for the treatment of cancer in companion animals. As founder, she has led the company formation, strategic planning, clinical development and regulatory affairs for ELIAS since 2014. She joined TVAX Biomedical (a human health biotech company) in 2012 as Chief Financial Officer and developed the animal health spin-off strategy that resulted in the formation of ELIAS. Wahaus is an experienced business leader with more than 25 years of experience serving in leadership roles for both public and private companies. Previously, Wahaus was an audit partner and national office advisor with Ernst & Young LLP. She also served as Global Controller and Principal Accounting Officer for GE Global Insurance Holdings and where she oversaw the global accounting and reporting operations across four continents and implemented Six Sigma Quality process management systems. She is a member of the University of Kansas Bioscience Workforce Education Board, the Kansas State University College of Business Advisory Board and Pipeline Entrepreneurs. Wahaus is a Certified Public Accountant and a 1983 graduate of the Kansas State University College of Business Administration (Cum Laude).
Dr. Bryan Bio
Dr. Jeffrey Bryan earned his DVM from the University of California-Davis in 1993. He worked as an Associate Veterinarian from 1993-1995 and
served as Medical Director from 1995-2002 of the Irving Street Veterinary Hospital in San Francisco. Bryan then completed a medical oncology residency, a Master of Biomedical Sciences and a PhD in Pathobiology at the University of Missouri. He received certification by the American College of Veterinary Internal Medicine in Oncology 2005. He is the Director of the Tom and Betty Scott Endowed Program in Veterinary Oncology, the Director of PET Imaging Center of the University of Missouri, Associate Department Chair for Research and the Associate Director of Comparative Oncology for Ellis Fischel Cancer Center. Dr. Bryan's research focuses on comparative examination of cancers in companion animals to better understand cancers in all species. His particular areas of interest are targeted imaging and therapy, epigenetics and immunotherapy of cancers. He directs the PET Imaging Center, which seeks to develop novel PET imaging agents for cancer diagnosis, localization and prognostication. He studies DNA methylation of canine non-Hodgkin lymphoma. He studies immunotherapy in companion dogs including investigating fetal microchimerism.