NextGen Precision Health & Ellis Fischel Cancer Center Science Seminar - May 19, 2022
More information and a recording of the talk is available below.
For questions about this event, please reach out to Mary Christie at mchristie@health.missouri.edu
"Discovery of Cancer Therapies That Target Copper Metabolism: A Journey from Bench to Bedside"
Presented by: Michael Petris, PhD; Christos Papageorgiou, MD
Date: Thursday, May 19, 2022, 4:30-5:30 p.m.
Description
Dr. Petris is a Professor of Ophthalmology and Biochemistry in MU's School of Medicine and a principal investigator in the Life Sciences Center. The Petris lab studies the micronutrient copper, which is rate-limiting for tumor growth and metastasis. Certain oncogenic mutations cause elevated copper accumulation which is a vulnerability that can be exploited through targeting copper transporters in cancer cells. Dr. Petris discussed preclinical and clinical data that suggests the copper transporters ATP7A and ATP7B are therapeutic targets in cancer, and he also described multidisciplinary research to develop the first inhibitors of ATP7A/B and the results of preclinical testing in mouse models of cancers. His talk was followed by Dr. Papageorgiou, an Associate Professor of Clinical Medicine in the Division of Hematology/Oncology, Ellis Fischel Cancer Center at the University of Missouri. Dr. Papageorgiou discussed collaborative efforts with the Petris lab to translate copper-based therapies from the lab to the clinic.
Speaker Bio
Dr. Michael Petris
Image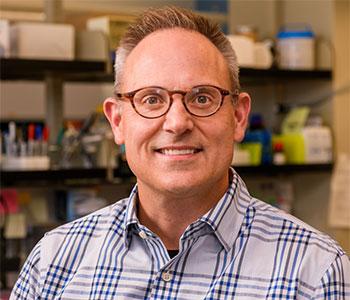 The Petris laboratory studies the biological roles of the essential nutrient copper (Cu), a metalloenzyme cofactor that is necessary for a wide variety of metabolic processes. My interest in copper metabolism began in 1994 when I was a trainee in the laboratories of Dr. Jim Camakaris and Dr. Julian Mercer at the University of Melbourne, Australia. At that time, mutations in the ATP7A copper exporting P-type ATPase had been recently identified as the cause of Menkes disease, a genetic disease of copper deficiency. My early research identified copper-stimulated exocytic trafficking of the ATP7A protein from the Golgi complex to the plasma membrane as a fundamental mechanism of controlling cellular copper levels. Since starting my own laboratory in 2000, we have identified metal regulated trafficking of other transporters such as the copper importer, CTR1, and multiple zinc importers. Another important discovery from my group was the role of ATP7A and the closely related copper transporter, ATP7B, in the metallation of enzymes within the secretory pathway, including the development of a colorimetric assay for ATP7A-dependent metallation of tyrosinase which is now widely used in the field. In addition to cell culture studies, my lab developed a floxed ATP7A mouse model used to discover roles for copper in fetal development, the central nervous system and the innate immune system. More recently, my laboratory has made important contributions to the role of copper in cancer and hypoxic responses. We have demonstrated that the ATP7A protein is essential for copper delivery to the lysyl oxidase family of enzymes which crosslink collagen in the extracellular matrix and play key roles in formation of the pre-metastatic niche and fibrosis. Additionally, ATP7A functions in chemoresistance to cisplatin and other chemotherapy drugs. Using computer-aided drug design, my lab has identified a first-in-class small molecule that inhibits ATP7A and reduces tumor metastasis in preclinical models of breast and lung cancer. Derivatives of this molecule are being developed as anticancer and antifibrotic compounds.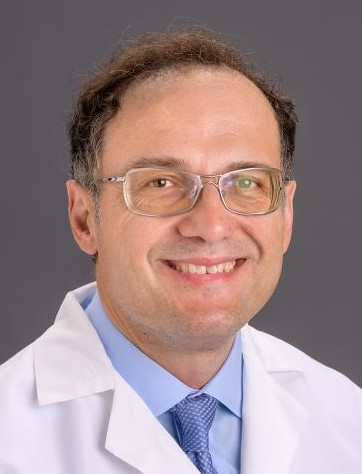 Dr. Papageorgiou is an Associate Professor of Clinical Medicine in the Division of Hematology/Oncology, Ellis Fischel Cancer Center (EFCC) at the University of Missouri (MU). He is the founder of the cancer tissue biobank dedicated solely to translational research at EFCC and is interested in metabolic biomarkers in serum and/or tissue of cancer patients for both diagnostic and therapeutic purposes. Based on preliminary work including demonstration of enhanced copper activity in serum of breast cancer patients seen in his clinic compared with healthy volunteers, he has recently received a Council Research award from MU to work in collaboration with Dr. Petris on copper metabolism as a potential tool to enhance response to chemotherapy in breast cancer patients.