NextGen Precision Health Neuroscience Seminar - Sept. 26, 2022
For questions about this event, please reach out to Veronica Lemme at lemmev@health.missouri.edu.
"What it Means to 'Listen' to Your Nervous System and the Power to Ignore"
Presented by: Dr. Jacqueline Limberg, Assistant Professor, Nutrition and Exercise Physiology, University of Missouri
Date: Sept. 26, 2022, 4-5 p.m.
Location: Tom and Linda Atkins Family Seminar Room, Roy Blunt NextGen Precision Health Building
Virtual option available
Description
Strong evidence implicates the sympathetic nervous system as a key regulator of peripheral blood flow and blood pressure during hypoxia. Herein, we present striking sex-differences in the neurovascular response to hypoxia that challenge current dogma. Our results are corroborated by epidemiological data showing sex disparities in the prevalence of hypertension and progression of cardiovascular disease in conditions of hypoxemia (i.e., sleep apnea). However, contributing mechanisms remains a critically unanswered question. Dr. Limberg will explore key mechanisms contributing to sex-differences in hypoxic vasodilation, with particular emphasis on the sympathetic nervous system.
Speaker Bio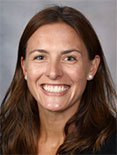 Dr. Limberg studies human integrative physiology with a primary focus on the cardiovascular system. Dr. Limberg completed her PhD at the University of Wisconsin – Madison, studying mechanisms that control blood flow both at rest and during exercise. This work focused primarily on how the sympathetic nervous system controls blood flow and blood pressure. During her postdoctoral fellowship at the Mayo Clinic, Dr. Limberg examined mechanisms by which individuals may exhibit high sympathetic nervous system activity. Her current work continues to explore factors that may contribute to sympathetic nervous system overactivity and their impact on blood flow, blood pressure, and – more recently – glucose regulation. Dr. Limberg also has interests in understanding how these factors differ by sex and the impact regular exercise can have on these responses.